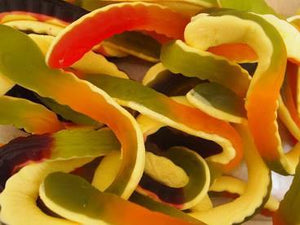 Description: Fruit flavour gums with a sweet foam gum base.
Ingredients:
Glucose syrup, Sugar, Dextrose, Gelatine, Acid: Citric acid; Flavouring, Fruit and Plant concentrates: Apple, aronia, Blackcurrant, Carrot, Elderberry, Grape, Hibiscus, Kiwi, Lemon, Orange, Radish, Safflower, Spirulina; Glazing agents: Beeswax, Carnauba wax; Caramelised Sugar syrup; Elderberry extract.

Allergens: marked in BOLD.