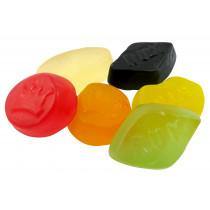 Description: Traditional fruit flavour gums. A long established sweet, Wine Gums continues to be a popular choice for all ages but especially those on the look out for retro sweets. A sweet that are soft and chewy with unfortunately, no wine at all in them!
Ingredients: Glucose Syrup, Sugar, Water, Maize Starch, Modified Potato Starch, Beef Gelatine, Acids (Lactic Acid, Acetic Acid), Flavourings, Colours (Anthocyanins, Paprika Extract, Curcumin), Vegetable Oil (Palm, Coconut, Sunflower), Glazing Agent (Carnauba Wax, Beeswax), Plant Concentrates (Safflower, Spirulina)
Allergens: marked in BOLD.
Gluten Free, Dairy Free.