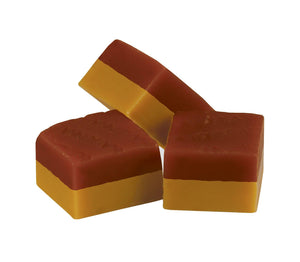 Description:  Chocolate and vanilla flavoured fudge cut into bite size cubes. This Duo Chocolate Vanilla Fudge gives you the best of both worlds; creamy traditional fudge with a rewarding chocolate layer too.
Ingredients: Sugar, Glucose syrup, Vegetable fats: Palm, Coconut, Skimmed Milk powder, Cocoa powder, Salt, Emulsifier: Soya Lecithin, Natural Flavourings, Vanilla extract.
Allergens: marked in BOLD.
Vegetarian, Gluten Free, Gelatine Free.