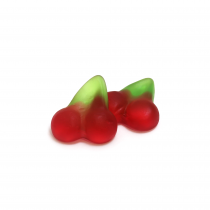 Description: Twin Cherry is a popular choice gummy sweet. Most definitely looking like a couple of delicious cherries and offering a vibrant colour, the taste is just as reassuring!
Ingredients:
Glucose Syrup*, Sugar, Water, Beef Gelatine, Corn Starch, Acid (Citric Acid), Vegetable Oil (Palm Oil), Glazing Agent (E903), Flavouring, Acidity Regulator (Sodium Citrate), Colours (E129, E102, E133).
*Contains genetically modified ingredients

Allergens: marked in BOLD.

Gluten Free.