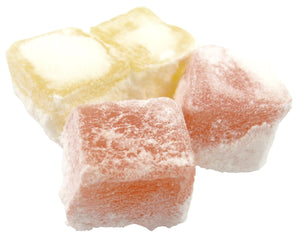 Description: Turkish Delight is a long established treat that dates back many hundreds of years. It can be made in a variety of flavours and this Turkish Delight has been classically flavoured with rose and lemon, creating a lovely traditional sweet.
Ingredients: Sugar, Water, Maize starch, Acidity regulator: Potassium Tartrate; Lemon oil, Fruit & Vegetable concentrates: Hibiscus, Apple, Carrot, Radish, Red Cabbage, Flavouring. 
Allergens: marked in BOLD.
Vegetarian, Gluten Free, Dairy Free, Gelatine Free.