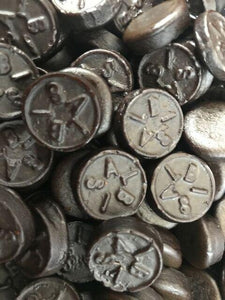 Description:  Triple Salt Liquorice - if you like your liquorice salted then these are for you. Each sweet is round and hard in texture.
Ingredients: Sugar, Modified Potato and WHEAT Starch, Ammonium Chloride (14%), Gelatine, Colour: Caramel; Liquorice Extract, Flavourings, Vegetable Oil (palm), Glazing Agent: beeswax.

Allergens: marked in BOLD.