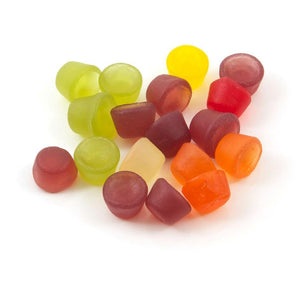 Description: Floral Gums are a real old favourite from the past. Little, hard, gummy, gently scented and flavoured gum sweets.
Ingredients: Modified Potato Starch, Glucose Syrup,Sugar, Water, Beef Gelatine, Lactic Acid, Vegetable Oil, Colours Anthocyanins, Carmines, Paprika Extract, Curcumin, Chlorophylls, Flavourings, Glazing Agents (Beeswax, Carnauba Wax).
Allergens: marked in BOLD.
Gluten Free, Dairy Free.