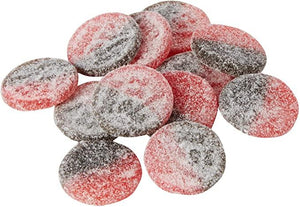 Description:  Sour Strawberry Liquorice From Sweden - This has to be the most bizarre but enjoyable liquorice available. The texture is hard with a good chew that lasts. One half is strawberry flavour the other rich liquorice and it has a very sour coating. Highly recommended.
Ingredients: Sugar, glucose syrup, gelatine, water, corn starch, malic acid, sodium citrate, colours E120 , E150d, flavour
Allergens: marked in BOLD.
Gluten Free.