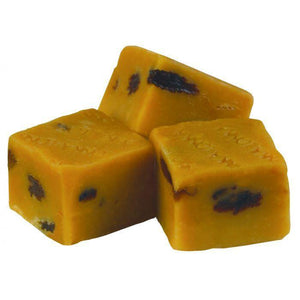 Description:  No range of fudge would be complete without a rum and raisin flavour. Traditional it might be but popular it always remains, juicy raisins are lifted with a touch of rum to complement the creamy fudge taste.
Ingredients: Sugar, Glucose syrup, Vegetable fats (Palm, Coconut), Raisins (7%), Skimmed MILK powder, Salt, Emulsifier (SOYA lecithin), Natural Flavourings.
Allergens: marked in BOLD.
Vegetarian, Gluten Free, Gelatine Free.