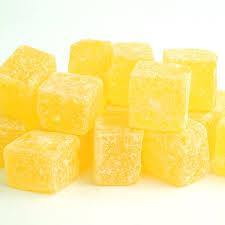 Description: Intensely pineapple flavoured cubes with a soft chewy centre. Imagine a tropical beach as you enjoy the flavour of these traditional pineapple cubes. The sugar coating disappears to allow the intense mouthwatering pineapple flavour to flood out, giving way to a chewy, pineapple centre. Sit under the palms and savour.
Ingredients: Sugar, Glucose Syrup (Sulphites), Citric Acid, Flavouring, Colour; E100.

Gluten Free, Vegetarian.

Allergens: marked in BOLD.