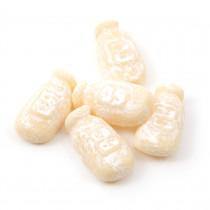 Description: Milk Gums are the original milk bottle shaped milky sweets. What makes them unique is the light dusting which coats the bottles and the flavour is so creamy - truly superb! 
Ingredients: Glucose Syrup, Sugar, Full Cream Sweetened Condensed MILK, Modified Maize Starch, Beef Gelatine, Flavourings, Salt,Contains MILK and SULPHITES.
Allergens: marked in BOLD.
Gluten Free.