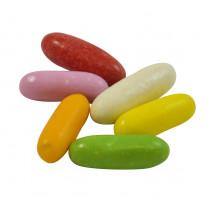 Description: These popular liquorice sweets offer liquorice pieces that have been sugar coated and presented in a variety of vibrant colours.
Ingredients: WHEAT flour with added Calcium Carbonate, Iron, Niacin, Thiamin, Sugar, Treacle, Dextrose, Water, Glucose syrup, Modified Tapioca starch, Colours: Calcium Carbonate, Curcumin, Anthocyanins, Mixed Carotenes, Glazing agents: Shellac, Carnauba wax; Liquorice extract, Vegetable oil: Palm, Coconut; Safflower extract, Flavourings, Spirulina.
Allergens: marked in BOLD.
Vegetarian, Dairy Free, Gelatine Free.