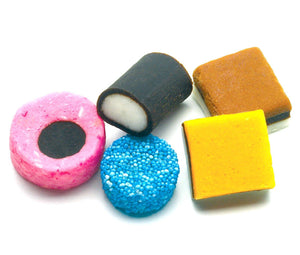 Description: A popular traditional sweet, assorted liquorice and coconut sweets with fruit flavoured jelly buttons. Liquorice Allsorts are very British sweet that the British public cannot get enough of.
Ingredients: Sugar, Treacle, WHEAT flour with added Calcium Carbonate. Iron. Niacin. Thiamin, Glucose syrup, Desiccated Coconut, Vegetable oils: Palm. Coconut, Beef Gelatine, Cornflour, Humectant: Glycerol, Colours: Plain Caramel. Curcumin. Paprika extract, Fat Reduced Cocoa powder, Liquorice extract, Glazing agents: Beeswax. Palm, Flavourings, Spirulina Concentrate, Fruit and Vegetable Concentrates: Blackcurrant. Carrot. Radish.
Allergens: marked in BOLD.
Dairy Free.