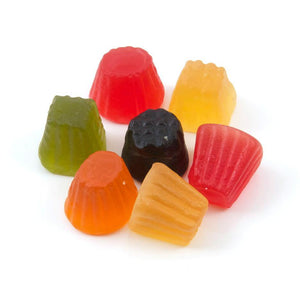 Description: These delicious small original Midget Gums come with that superb taste that everyone knows and loves. These Midget Gums are made with only natural colours and flavours.
Ingredients: Glucose Syrup, Sugar, Water, Beef Gelatine, Modified Potato Starch, Citric Acid, Liquorice Extract, Flavourings, Vegetable oil, Acetic Acid, Colours: Chlorophylls, Vegetable Carbon, Paprika Extract, Carmines, Curcumin, Lutein, Glazing Agent: Carnauba Wax
Allergens: marked in BOLD.