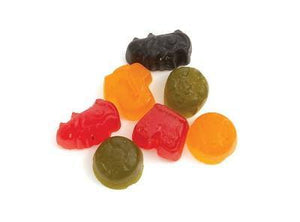 Description: Fruit & liquorice flavoured hard gums. Made to the original recipe.
Ingredients: Glucose Syrup, Sugar, Water, Beef Gelatine, Modified Potato Starch, Acid: Citric Acid, Acetic Acid, Liquorice Extract, Flavourings, Natural Colours: Chlorophylls, Lutein, Vegetable Carbon, Paprika Extract,   Carmines, Curcumin, Vegetable Oil: Palm oil, Coconut oil, Glazing Agent: Carnauba Wax, Plant Concentrates: , Spirulina.
Allergens: marked in BOLD.