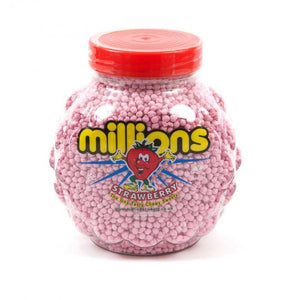 Description: Strawberry flavour chewy sweets. The original tiny tasty chewy sweets.
Ingredients: Sugar, Glucose Syrup, Fully Hydrogenated Coconut Oil, Strawberry Juice from Concentrate (3%), Citric Acid, Starch, Concentrates (Elderberry, Black Carrot), Maltodextrin, Strawberry Flavour, Thickeners (Gellan Gum, Cellulose Gum, Gum Arabic), Emulsifier (Sucrose Esters of fatty acids).
Allergens: marked in BOLD.
Vegetarian, Vegan, Gluten Free.