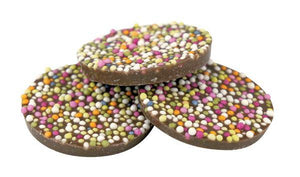 Description: Mega Chocolate discs sprinkled with hundreds & thousands.
Ingredients: Sugar, Palm oil, Whey Powder from MILK, WHEAT flour with added Calcium, Iron, Niacin, Thiamin, WHEAT starch, fat reduced Cocoa Powder, Emulsifier: SOYA Lecithin; Glucose syrup, Natural Flavourings, Natural Colours: Carotenes, Betanin, Anthocyanin, Chlorophyllin, Glazing Agent: Beeswax. 
Allergens: marked in BOLD.
Vegetarian. Gelatine Free.